Teaching Children Effectively - Level 1
Are you a...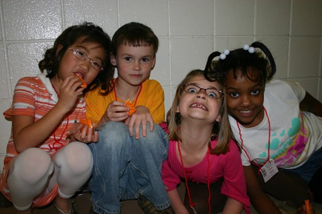 Sunday school teacher desiring to be more effective?
Parent longing to lead your child to Christ?
Children's worker ministering to at-risk children?
Church team needing children's ministry training for a missions trip?
College student specializing in childrens ministry?
Missionary seeking strategies for ministry to children?
You need TCE!
TCE will give you practical, hands-on training that will allow you to take your ministry to children to a new level.
TCE Level 1
Designed to offer a fresh approach to classroom learning, TCE will help equip students with basic skills and effective methods to evangelize children and immediately begin a neighborhood outreach ministry. Emphasis is placed on organizing and conducting meaningful classroom acivities that enrich children spiritually and are also enjoyable.
In addition to regular coursework, three practicum sessions conducted during the course provide each student with evaluated experience in applying the theory and thought. Students are also required to participate in teaching give children's classes within 90 days of completion of the course to receive a certificate.
Credit
Academic credit may be available through various colleges. Students can earn five Continuing Education Units (CEUs) in professional education or in Bible for completing this course.
Sample Course Subjects
(30 hours total)
The Importance of Conversion
How to Lead a Child to Christ
Encouraging the Newly Converted Child
Bible Lesson Preperation and Presentation
Conducting a Neighborhood Outreach
The Importance of the Teacher
Managing Your Classroom
Scripture Memorization
Prerequisites
Born-again Christian
At least 15 years of age
Willing to participate in all class activities including practicum sessions (auditing is not permitted)
Contact us for specific course details.